Last updated on February 3rd, 2023 at 05:55 pm
Be watch out for these signs of a bad first impression at new job, as they may impact your professional image at a new workplace.
It is common to make mistakes during your first few days on a new job out of nervousness or overconfidence. 
But, a first impression is a one-time thing and not easy to change.
Whether you're about to join, it's good to be aware of what things can damage your first impression with your new colleagues and boss. 
On the other hand, if you already felt you left a bad first impression, knowing such signs will let you know what wrong you did during the introduction part. 
Consequently, you can change your attitude or can be relaxed while working and meeting with new people at work, then on. 
6 Signs Of Bad First Impression At New Job
If you have just started a new job and feel like you have left a bad first impression, you must be aware of what wrong you did there. 
This is a realization and helps you to do the needful in your behavior. 
1. You fail to greet your new coworkers the same way as they do.
What was your first interaction with your new team members? Were you excited or forced? 
If you lack enthusiasm or do not acknowledge 'welcome aboard' messages and all, you leave no good impression on the first day at work. 
It's important that you don't take such welcome wishes as formalities.
But, rather greet them with a genuine smile. 
If you know you weren't excited and take every wish as the same, your first impression is bad.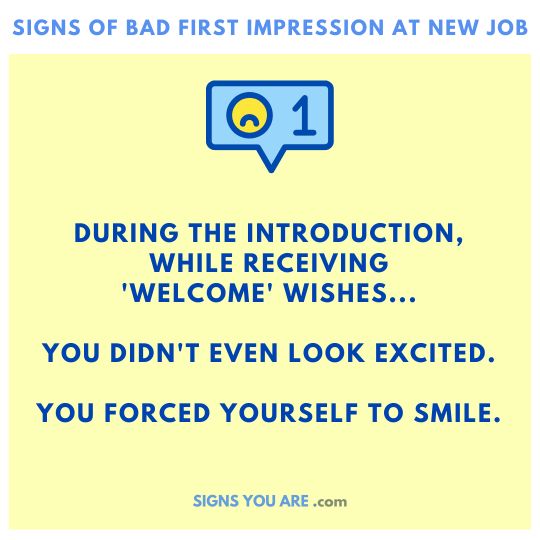 2. You didn't take any initiative to get to know others at work.
You may have only talked about yourself or shown no interest in getting to know them. 
Your new coworkers will probably ask you questions so that they can build a connection.
Considering that you're new, you've got a long way to go. 
During the early conversation, only they seemed interested but not you.
If you act arrogant, your coworkers start to hate you.
On your first day, it's important to at least have some initial conversations.
Regardless of how equipped you are at work, pay attention to what they say to you.
Due to your lack of interest in first interactions, you may turn off your new teammates at first. 
Check other:Signs You're Stuck In The Wrong Field Or Job
3. You acted too much on the first day.
And it's about anything you did that was 'too much'. 
It could be that you talk too much, ask too many questions then needed or only get busy from the first day. 
On the first day at work, your fellow members are also interested in connecting with you.
But when you do anything that too much, you make your new colleague get a bad impression of you.
They might feel exhausted from day one, because you were too much for the first day.
4. You make others (or yourself) so uncomfortable on the first day at work..
You shouldn't act arrogant and passive on the first day, to anyone on joining day. 
Because it creates your image as a bad person that no one wants to work with. 
With your cocky nature, you may misbehave at work, or due to your reserved nature, you avoid meeting anyone at work.
When your first day at work is a bit more aggressive (defensive) than adjustable, it is a sign that you left a bad first impression at new job. 
And your coworkers surely will remember this for a longer duration. 
5. You end up being an egoist even though you aren't.
The first time you meet someone, you may feel hesitant. 
Some people will understand that you are simply nervous, and others may think you are ignoring them. 
You should be more approachable and listen to what they say or ask.
It's not apparent to you, but your overconfidence and the way you talk about your achievements and so, make your new coworkers feel insecure around you.
But here, you make it hard for your new coworkers to connect with you, which harms your first impression.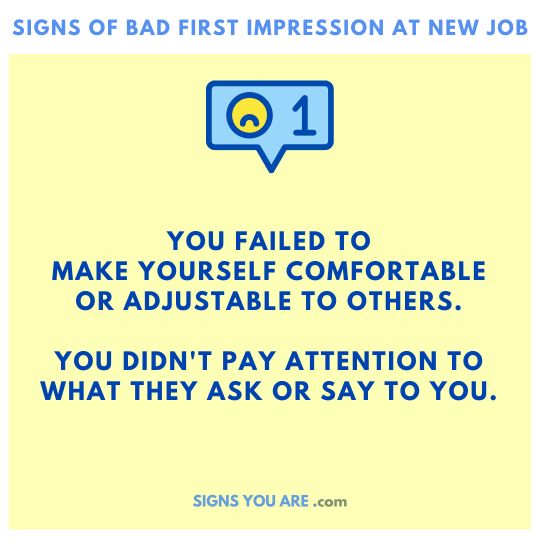 6. You tried to change their perspective and work patterns.
The first impression extends beyond those of your interest and position.
Whether you're at a higher position or lower, your impression on the first day at work matters, equally. 
One thing to remember is that you're new at this place. 
You might be filled with confidence and be proud of what you did in your career field.
But, valuing new work methods and personal skills is equally important. 
From day one, if you start to compare this new job to your previous job, you're leaving a bad reputation at work.
Check other:Signs You're Careless About Your Job
Is it possible to change the bad first impression you left at your new job?
Well, you found that you relate with the most signs of bad first impression at new job. 
So, Is that mean your image will be like that forever? 
Of course, not. If you really want to change and improve yourself… there's a way.
Totally agree that you might fumble a lot or have a reserved nature misunderstood as arrogance by your new coworkers. 
But, if you wish to change it… you've a chance to fix your bad first impression.
You should relax yourself instead of thinking about the wrong first impression you left. 
Make yourself more approachable, ask for help, and share your excitement, from there.
What you did was just a mistake, make sure not to repeat that thing again. 
The more comfortable you are with yourself, the more relaxed others will feel to connect with you. 
So, if you want your coworkers and teammates to have a positive impression of you, start being nice and approachable. 
Be honest with them and show up as you're. 
With a strong belief in universal signs and positivity, Ketan P. started 'Signs You Are' to shed light on the daily signals we miss. Every article on this site reflects his experiences, learning, and reflections over the years.